June 2022
Dear Reader,
The war in Ukraine, unleashed by Russia on February 24, appears to have become a protracted conflict – a shock to the heart of a continent which many thought was now immune to such large-scale armed aggression. This terrible war serves as a reminder of other ongoing wars, and that peace is a precious gift, never acquired permanently, but which must be continuously nurtured and protected. The prevention of violence and the peaceful transformation of conflicts remain vital to any human society and should be the mission of all.
This edition of our "Cordoba Update" presents some of the activities and events organized by CPI during the first half of 2022. We also feature two articles, one by Ozair Khan, on the ideological evolution of the Taliban in Afghanistan, the other by Abbas Aroua, Jean-Nicolas Bitter, and Simon J. A. Mason, on the role of value systems in conflict resolution. We hope you enjoy reading them.
We also wish you a great summer.
The CPI-Geneva Team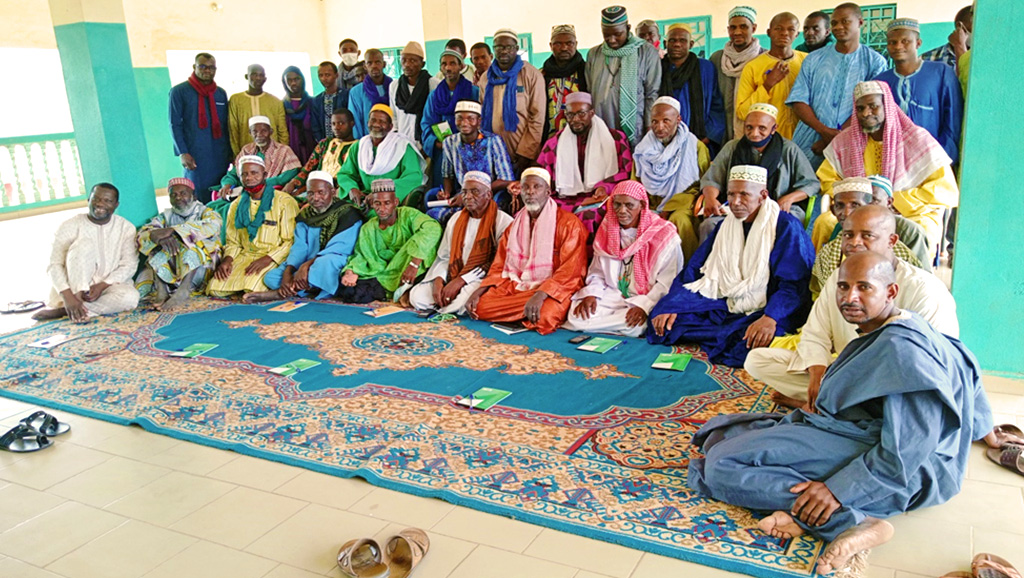 Participants in one of the training sessions for teachers of Quranic schools in Mali.
© 2022 Cordoba Peace Institute – Geneva

News of the Institute
---
Nigeria - CPI carried out a field mission to Nigeria from 28 January to 5 February 2022. It was an opportunity to organize the Project Steering Committees, in person, after two years of travel restrictions due to Covid-19. In addition, working sessions and capacity building sessions with our implementation partners were conducted. The next CPI's field visit to Nigeria is expected next July.
Nigeria - As part of the CAN project funded by the FDFA until February 2023, Dar El Andalus Center (DAAC), CPI's implementation partner in Nigeria, conducted a workshop in March 2022 entitled "Youth for Peace Projects". This workshop brought together 50 Muslim and Christian students in Kaduna and introduced them to conflict transformation in order to encourage interreligious dialogue as well as to contribute to a better understanding and perception of each other. This 3-day workshop ended with a visit to places of worship and a literary competition.
Mali - CPI, mandated by the Ministry of National Education in Mali, has trained 390 Teachers of Quranic Schools (TQS) throughout the country as part of the process of linking Quranic Schools to the Malian National Education System. These training sessions helped to overcome and dispel the fears of the TQS about the project and its objectives. The training focused on giving TQS a better idea of the modern school, while further valuing the traditional educational offer they provide, and which should be reinforced by new disciplines in order to create new opportunities for the students. In the coming months, CPI will organize a Training of Trainers in order to ensure a wide dissemination among all circles of Quranic schools.
Iraq - A Cultural Café was launched by CPI in February 2022 in Telafar to foster social cohesion and a climate of reintegration conducive to returns of refugees already underway and to come. Thus, the objective is to provide young people with a place dedicated to culture and artistic practices, creating a space for communication among citizens. A cultural trip was organized in cooperation with the Telafar Youth Volunteers Association to the Telafar Orchards on 26 March 2022, as well as a poetry competition. In addition, the Ramadan period was suitable for the organization of various sporting events.
Webinar - A webinar on "The Role of Islamic Jurists in Shaping Armed Group Behaviour" in conflict, negotiation and governance activities was organised by CPI in partnership with CSS ETH Zurich, on 1 February 2022. The webinar brought together 50 experts, government policy officials, and peace practitioners from the UN, EU, Africa and MENA. The webinar presented the preliminary findings of a pilot research on cases from Mali, Syria, and Iraq, conducted by CPI with support from the Templeton Charity Foundation Switzerland and the Swiss Federal Department of Foreign Affairs.
Interfaith in Action - CPI launched a new project on May 1, 2022, with the support of the Templeton Religion Trust, to contribute to the reduction of inter-religious tensions and the promotion of social cohesion in Burkina Faso and Nigeria.
CPI in the media - CPI's book "The Quest for Peace: Introduction to Conflict Transformation" (in Arabic) was reviewed by British/Sudanese author Mohamed Sulieman Elfaki Al Shazly on Aljazeera's website. "The book is a real addition to the Arab-Islamic library, as the field of conflict transformation is a Western domain par excellence. (...) The book is rich, easy to read, and new in its content. We hope that this publication will prompt academic circles and civil society organizations in Arab and Islamic countries to build on this solid foundation laid by Dr. Abbas Aroua for this branch of science that has a positive societal impact."
Link of the review: https://bit.ly/3KMvqFn
Link of the book: http://www.cpi-geneva.org/images/pdf/Books/Q4PAr.pdf
CPI in the media - Interview with Religion & Diplomacy editor Judd Birdsall on "The Value of Understanding the Role of Value Systems in Violent Conflicts", February 16, 2022 (https://bit.ly/3M1KZcJ).
Bibliography of Conflict Transformation - This bibliography includes 227 references in English and 14 in Arabic. The limited number of sources available in Arabic, shows a real need and calls for more efforts in research, publication and translation in this regard. (http://www.cpi-geneva.org/images/pdf/Books/CT-Biblio.pdf).
---
The Role of Value Systems in Conflict Resolution
by Abbas Aroua, Jean-Nicolas Bitter, Simon J. A. Mason