October - December 2019
Dear Reader,
We are approaching the end of 2019, a year during which CPI has continued its facilitation and capacity building activities in the Middle East and Africa. It has conducted projects in Iraq, Lebanon, Mali, Mauritania and Zanzibar (Tanzania) and is starting new phases of its programs concerning social cohesion and the prevention of extremism and extreme violence in the MENA, Sahel, and Lake Chad regions.
In this last 2019 issue of the Cordoba Update, CPI founding director Abbas Aroua suggests four criteria for differentiating faith-based entities and avoiding lumping them together. In his article, Qassim Qassir, one of CPI's Lebanese partners and member of the Forum of Humanitarian Associations, writes about Lebanon and Iraq in the light of the popular protests and advocates that the solution to the crisis will come through citizenship and the fight against corruption.
We wish you a very happy new year and our best wishes for 2020!
The CPI-Geneva Team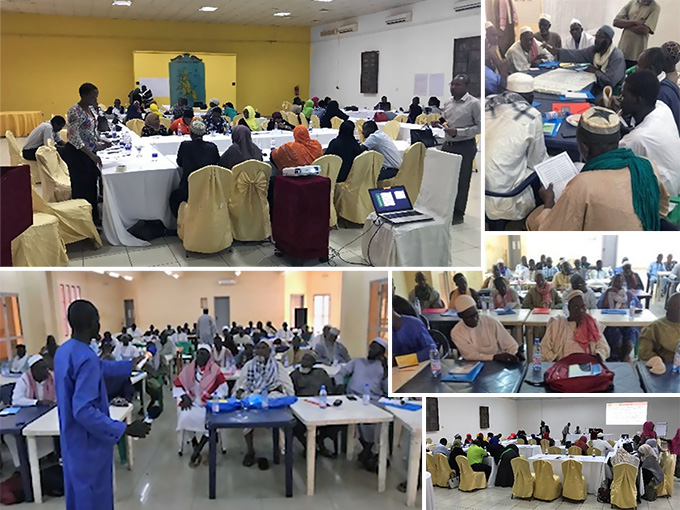 CPI training sessions in Mali and Tanzania, 2019
News of the Institute
---
Iraq - In November 2019, within the context of its activities in Iraq, CPI has launched a new pilot project in the province of Ninewa supported by the Deutsche Gesellschaft für Internationale Zusammenarbeit (GIZ).
Mali - In support of the Malian government as part of the plan to link Quranic schools to the Malian education system, CPI conducted between 9 September and 5 November 2019, a series of training sessions in conflict transformation for the benefit of more than 300 Quranic teachers. The regions of Sikasso, Kayes, Mopti (with the regions of Kidal, Menaka, Timbuktu and Gao), Bamako-Koulikoro and Ségou were covered. The courses were conducted in Arabic with Bambara, Fulani and Songhai translations.
Tanzania - CPI delivered several training sessions from 29 November to 3 December 2019 to participants from Unguja and Pemba, including 45 journalists, 30 students 30 NGO members and 10 community leaders. Another session on 13 December was dedicated to 40 Imams. The training covered mediation, community-based early warning rapid response and peace journalism.
---
Lebanon and Iraq following the popular protests: the solution will come through citizenship and the fight against corruption
by Qassim Qassir